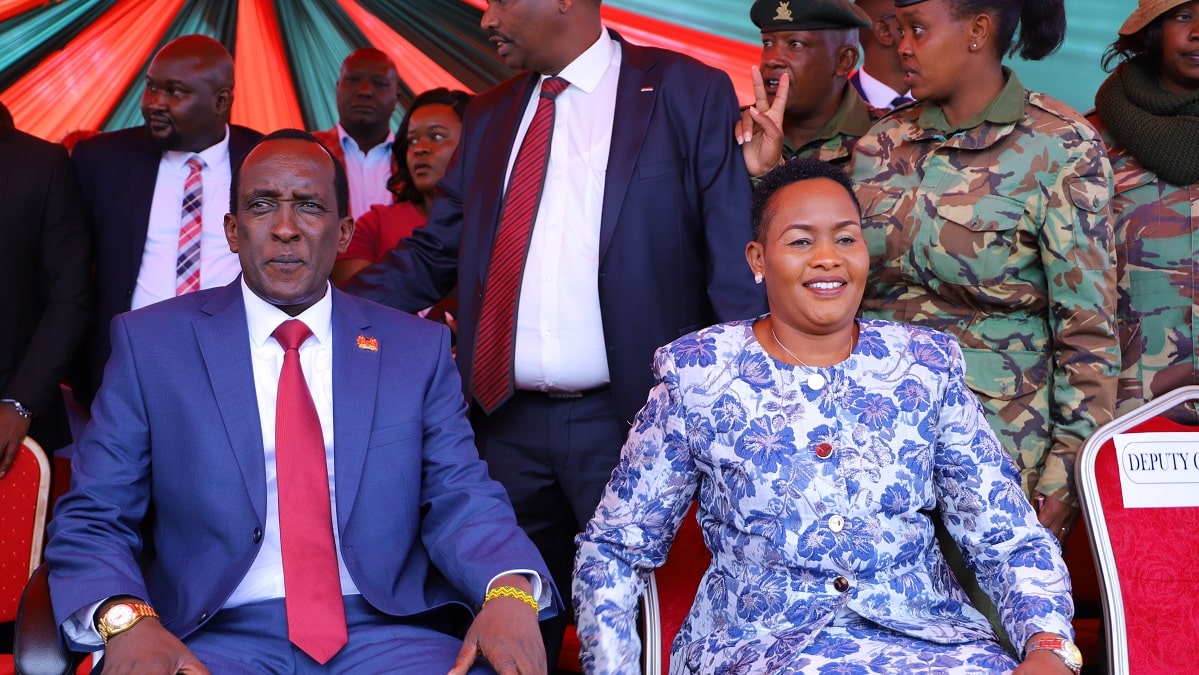 Image Caption
Trade, Industrialization & Cooperative Development
Background Information
The County of Narok Department Trade and Industrialization undertakes measures to enhance and expand trade and industrialization in the county. The measures include policy formulation, partnership with the private sector to make capital and credit facilities more accessible and facilitation of relevant licenses and permits.
The programmes of the County of Narok Department Trade and Industrialization are based on the Narok County Integrated Development Plan 2018-22. Through this plan, the department aims to uplift the livelihoods of 243,628 residents of Narok from poverty.
The department focuses on Economic Empowerment, Social Empowerment, Women and Youth Empowerment through enhanced education and social welfare; and Increase/improve agricultural produce marketing infrastructure.
The Department is also engaged in ensuring Consumer Protection and Fair Trade practices.
The department's vision is to be a national leader in promoting trade and investment by championing an enabling business environment.
Single Business Permit. Assessment of business and invoicing, visiting new businesses, signing and issuance of licenses.
Creating linkages between prevailing industrial human resource needs and county vocational training curriculum.
Oversight of the revolving fund Joint Loans Board in liaison with the National Government.
Market infrastructure development and support services.
Formulation of friendly policy and legislative measures.
Promotion and branding Narok County as an investment destination.
Enhancing market access through participation in local and other Trade Fairs, exhibition and exchange programmes.
Establishing affordable information sharing platforms for traders.
Provision of support for the construction of modern abattoirs and tanneries.
Tourism And Wildlife
The Narok County Tourism and Wildlife sector is compromised of two sub-secotrs namely Tourism and Wildlife Heritage. The scetors are crucial for the County sustainable economic development, job creation and poverty reduction.
The sector envisions being a premier tourism destination in Africa with a mission to develop and promote unique and diverse tourism products within a sustainable framework and to facilitate tourism investment by championing enabling legal and policy framework for domestic and export business to thrive.
The sector envisions being a premier tourism destination in Africa with a mission to develop and promote unique and diverse tourism products within a sustainable framework and to facilitate tourism investment by championing enabling legal and policy framework for domestic and export business to thrive.
Strategic Objectives
To reduce poaching and effectively manage wildlife resources.
To improve accessibility, communication and connectivity.
To increase wildlife dispersal area.
To ensure constant availability of Revenue from the Mara regardless of the season.
To promote Mara ecosystem as a filming destination.
To enhance conference tourism.
Services Offered
Developing tourism policy standards.
Development and promotion of tourism.
Tourism research and monitoring.
Protection of tourism regulation.
Training of tourism services and marketing for local and international tourists.
Promotion of cultural tourism and women empowerment through the Ushanga initiative.
Ushanga Initiative
Introdution
The Ushanga initiative, started in 2016 with an aim of empowering women from the pastoral communities through Community based tourism to get them into commercial beadworks through the co-operative model of doing business.
The initiative seeks to transform the traditional bead activity practiced by women from Narok County into a commercial business in order to improve their livelihoods and to integrate their products into the mainstream economy.
Beadwork for a long time has been the cultural mainstay of the Maasai; some even ascertain that Narok County is the origin of Maasai beadwork. Back then, most of the beads were made for sentimental and cultural values and were not for any commercial purposes. Each community / Maasai sub-tribe had a unique sense of style and story behind their different type of beadwork which needs to be preserved and protected In the modern age , most of the pastoralist women have strived to commercialize beadwork but have faced major challenges namely:- Ineffective marketing of their beadwork products ; Exploitation ; Low quality of beads products produced and lack of access to knowledge and added value
Stakeholders
The project is a multi-sectoral initiative and it has the following stakeholders:-
Office of the Deputy President –focal point of communication, coordination and oversight of the project.
Ministry of Tourism – the lead implementing agency in terms of product development, capacity building, marketing and promotion of the Ushanga and Shanga Project. The critical institutions within the Ministry will include : Kenya Tourism Board and Tourism Finance Corporation
Ministry of Industry, Trade and Cooperatives – registration of cooperatives and assist in capacity building of the cooperatives
Components of the project
Creation of awareness and project sensitization of the Ushanga Initiative

- Conveying the knowledge and benefits of the Ushanga Narok Initiative

Bead Mapping and Profiling

- Providing a powerful tool to better understand the beadwork in Narok and further identify the potential

Mobilize women into co-operatives

- Co-operatives have the benefit of social interaction, collective marketing & bargaining power , Economies of Scale and sustainability of Ushanga Enterprise.

Capacity Development

- Enhance their technical skills in beading and their entrepreneurial skills.

Development of Infrastructure

- Development of Training Centers , Workshops and Galleries .

Market Development

- Expand to untapped local, regional and international market for bead.
Achievements
Since its inception in 2016, the Narok County Ushanga Initiative has made some notable steps. Namely :-
Created Awareness of the Narok Ushanga Initiative throughout the 30 Wards in Narok County
Registered and facilitated certification of 18 beadwork co-operatives
The co-operative were formed with the following consideration:-
Administrative units of the County
The communities involved
The type of beadwork
The 18 co-operatives
SUB COUNTY
LOCATION
NAME OF CO-OPERATIVE
Narok North
Town
ENDUATA NADUPOREKI CO-OPERATIVE SOCIETY LIMITED
Narok East
Suswa
ENKIBUNGA SUSWA CO-OPERATIVE SOCIETY LTD
Ntulele
MOSIRO NALEPO BEADWORK WOMEN CO-OPERATIVE SOCIETY LTD.
EorEkule
NALEPO ILDAMAT BEADWORK WOMEN CO-OPERATIVE SOCIETY LIMITED
Trans Mara West & Trans Mara East
Kilgoris Central Ward
OSUPUKO LEMAA CO-OPERATIVE SOCIETY LIMITED
Shankoe / Keyian Ward
OSIM LEMAA IWUASINKISHU CO-OPERATIVE SOCIETY LIMITED
Lolgorian
ENTAEI WOMEN BEADWORKS CO-OPERATIVE SOCIETY LIMITED
EmuruaDikirr
DIKIRR CHEMALUK BEADWORK WOMEN CO-OPERATIVE SOCIETY LIMITED
Narok West
Siana- Sekenani
SIANA SHANGA WOMEN CO-OPERATIVE SOCIETY LIMITED
Naikarra
NAIKARRA NABOISHO BEADWORK WOMEN CO-OPERATIVE SOCIETY LIMITED
Aitong
MARA BEADS CO-OPERATIVE SOCIETY LIMITED
Mulot
ILMASOSA BEADS CO-OPERATIVE SOCIETTY LIMITED
Narok South
Entasikira
EWANGAN ELOITA CO-OPERATIVE SOCIETY LIMITED
Narosura
NASHILI ENGARE CO-OPERATIVE SOCIETY LIMITED
Majimoto
OSILIGI LOMARETA BEADWORK WOMEN CO-OPERATIVE SOCIETY LIMITED
Olulunga
NABIKI CO-OPERATIVE SOCIETY LIMITED
Narok North
Olokurto
ENCHULA ENKAJI EMAA CO-OPERATIVE SOCIETY LIMITED
Oloropil
ENKOROPIL CO-OPERATIVE SOCIETY LIMITED
Trainings
Training for TOTs (Training of Trainers ) in Narok Town
Camp Training

The initiative organized a 15 day training in 3 camps ( Nkoilale, Mararianta and Kawai centres ). These trainings sought to strengthen the business and production capacity of the women as well as improve the competitiveness of beadwork from both local and world markets

Master Beaders Training

The initiative organized a training for Master Beaders who would become trainers of trainers at Watakatifu Wote in Kajiado County
Profiling of beaders in Narok County
-This will enable Ushanga Narok to know the competitive advantage of each beader and categorize them
Future of Narok Ushanga Initiative
The Ushanga & Shanga Initiative envisages that there will be a company dealing with the beads market in the international market. It will therefore be a company which will be involved in finding the market for the various types of beads made by the Maasai women who will be bound to sell their products (beads) through their co-operative societies.
Members will individually make their beads which will sell it to the co-operative society in line with their mutual agreement. Payment can be done at the point of selling the beads or after selling to the end market. The negotiation is between the member and co-operative society and available market outlet.
Contacts